The National Awareness campaign geared toward educating the public about Antimicrobial Resistance (AMR), dubbed National AMR Awareness Campaign, has been launched.
According to WHO, "Antimicrobial resistance is the ability of a microbe to resist the effects of medication that once could successfully treat the microbe. The term antibiotic resistance is a subset of AMR, as it applies only to bacteria becoming resistant to antibiotics."
The AMR bacteria, according to the World Heath Organisation (WHO), will see "at least 700,000 people die each year due to drug-resistant diseases, including 230,000 people who die from multidrug-resistant tuberculosis," as it stands currently.
As a result, however, the first annual Symposium on AMR and National AMR Awareness Campaign has been held where stakeholders from within the health sector from across the world were brought on board to find an action plan to combat the relevant bacteria.
Dr Gloria Nimo, the Convener, Ghana Consortium on Pharmaceutical Misuse, told the DAILY HERITAGE that the AMR is more dangerous than the Coronavirus, hence the need to raise public awareness on the bacteria.
On why AMR is not attracting the kind of attention the Coronavirus has,she said "I hear people do not want to be talking about those things. Most of the time, we give this responsibility to the government and other organizations to champion the cause."
"But it is not the issue of the government,it is doing as much as it can, it is up to the community leaders and non-profit organizations that are doing missions in Ghana to come together instead of adding to the burden. We need to come out and have a creative way of talking and creating awareness and making sure that we are not adding to the burden of AMR, which kills more people than the coronavirus," she explained.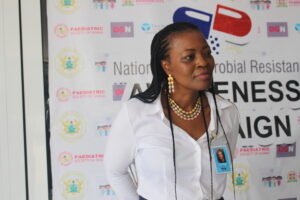 Time to forge ahead
About the conference, she said it was "basically to bring stakeholders on board and knowing that the global challenge of AMR is an issue that we, as a country, need to create more awareness about and bring people to the table to have discussions on the awareness, that is why we are here because we have multiple people dying."
DrNimo said international organizations should unite on critical recommendations to combat drug-resistant infections and prevent staggering number of deaths each year
Life expectancy drops
Dr Martha Gyansa-Lutterodt, the Director of Technical Coordination at the Ministry of Health, has expressed worry that non-communicable disease mortality has risento an all-time 21% of deaths in the country, adding that life expectancy is 63 years, with premature mortality being at 23%.
Dr Gyansa-Luttterodt, prior to launching the awareness campaign, addressed the gathering on the institutional arrangements by the Ministry of Health in addressing the AMR Challenge.
"Our health status, universal health coverage, is about 44 per cent and we are trying to do better. Our life expectancy is 63 years and we are having a lot of premature NCD mortality, which is at 21 per cent,which is very high and our youth or children should not be dying," she said while officially launching the five-year National AwarenessCampaign.
Dr Nimo, who is also the Chief Executive Officer of the Amazing Grace Children's Foundation, said the campaign is geared towards getting the community involved in "our education programmes and raising awareness because we are all at risk of AMR.
"We have been in the market and we have spoken to the market women and it sounds like people are interested. They want the information, so aswe are going into the community to give them the information, they also receive us very well, and it shows the strength of Ghanaians, particularly the market women who are willing to create change."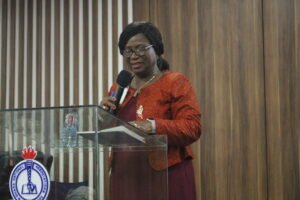 The symposium
Over 200 participants from Ghana and US,includingnurses, physicians, corporate heads, health professional groups, veterinarians, microbiologists, infectious disease specialists, pharmacists, medical and nursing students, public health students and professionals, the media and members of the general public attended the conference.
The well-attended conference, which was chaired by Mr. Benjamin Kwame Botwe, president, Pharmaceutical Society of Ghana,also witnessed solidarity messages from Prof KwamenaSagoe, Immediate Past Head of Department, Department of Medical Microbiology, University of Ghana/Chairman of the AMR Campaign Steering Committee; andDr. Mandell William, Infectious Disease Specialist, Internist, Primary Care Doctor, New York/ Clinical Assistant Professor, Department of Medicine New York State University.
There were also representatives from Medical and Dental Council, Paediatric Society of Ghana, Representative from WHO, FAO and the Ministry of Health, who all took turns to address the gathering.
Topics examined
The topics treated included 'Future of AMR-Addressing the Emerging Global AMR Crisis in Resource Challenged Areas' by Mrs. Yvonne YirenkyiwaaEsseku (Rector, Ghana College of Pharmacists); and Effective Laboratory Diagnostics: a Pathway to Addressing the AMR Crisis in Resource Challenged Setting by Dr. Kwame Asante, ASCP-certified Medical Laboratory Scientist/ Former Laboratory Advisor and Consultant for the U.S. Department of Defense's Threat Reduction Agency's Cooperative Biological Engagement Program supporting countries in the Former Soviet Union, Asia and East Africa.
Another was 'The Effect of AMR on food production, nutrition and economic growth – Food & Agriculture' tackled by Dr. Gordon Abekah-Nkrumah (Health Economist/Senior Lecturer, Department of Public Administration and Health Services Management, University of Ghana Business School/ Researcher with the African Economic Research Consortium (AERC)
'An update on Antepartum Guidance Protocols' was handled by Dr. Gail E. McDonald, O& G Specialist/Fellow of the American College of Obstetrics & Gynaecology
'Prescribing and Using Antimicrobials- What We Should Know'was dealt with by Dr Joycelyn Dame (Infectious Disease Specialist, Korle Bu Teaching Hospital/ Lead, AMR Campaign.
There were group discussions supervised by 10 resource fellows.
Source: Ghana/Starrfm.com.gh